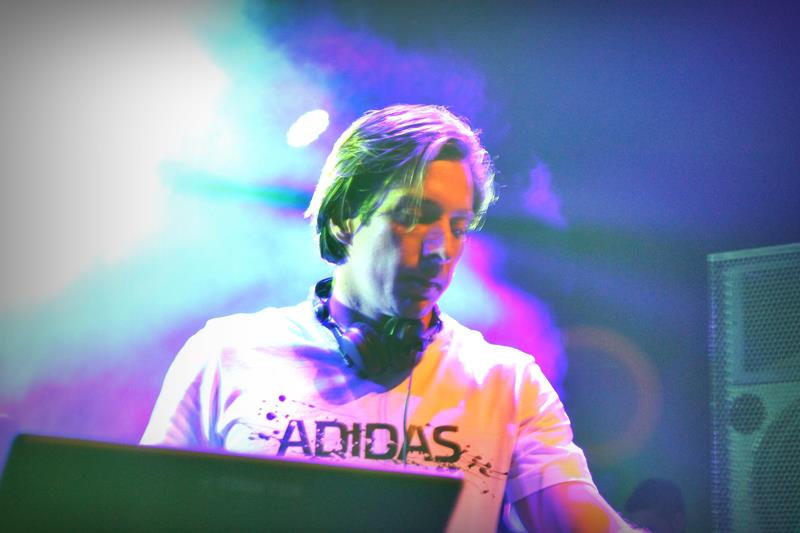 Nicolas Bacher is dj, producer, and founder of the record labels Titanium, Supreme Entertainment and NB Records. With residencies and many appearances in Austria's booming electronic underground scene in the late 90s, he soon became one of the most booked local djs on raves in Austria and surrounding countries. Besides spinning records, he performed as liveact aka TITANIUM on major events like Austria's legendary Gazometer, Summer of Love and Mayday. During the last years, Nicolas released music on the most important techno and house labels like Global Underground, Primate, CLR, Rotation, Primevil, MB Elektronics, Yoshitoshi, Monoid and many more.
Nicolas Bacher was first noticed when he won the "Best Newcomer DJ" at Austrias Techno Award in 2000. Since then he is one oft he leading protagonists in Austrias electronic music scene. The DJ, producer and label owner of 3 labels, is well known for his amazingly deadpan dj-sets and energetic liveact, and his background as musician make him most wanted for all kind of collaborations. Even thought his musical career began in the early 1990s, his real passion began when he was a young boy, and is increasing ever since then. The passion for sounds and beats – that noise we all know as "music". Nicolas has always been interested in technical stuff, electronics and music. As a combination of these he played around with music cassette players and turntables and soon he started programming electronic sounds with his Commodore 64. After some years spinning records on private underground parties the first major breakthrough was soon to arrive. A deal with one of the leading booking agencies Titan International, one of the leading booking agencies in central Europe.
Nicolas has always loved to make his own parties over the years, but his own clubnight series in 2002 called "We love techno" at Vienna's Club Massiv caused uproar in Austria as it was a melting point for many artists and party people from all over Europe (yes, we had visitors coming here from Frankfurt!).
Different styles of electronic music he encountered over the years, developed a flair for all kind of situations the crowd could get into. This reputation makes him a willingly viewed act in clubs and on various events all over Europe, spinning his records all over Europe. Besides many club gigs, he travelled nearly all over Europe to play big raves and festivals, including Summer of Love Festival in Czech Republic, Mayday Budpaest, Rabac Festival Kroatia and Eurovision Serbia, London's Notting Hill Carnival, Viva Club Tour in Poland and of course the biggest Austrian raves like Biosphere, Gazometer, Hypnotic and regular appearances in Vienna's clubscape like P1, Volksgarten, Flex, legendary Kunstwerk and many more.
One oft he most important studio-collaborations of Nicolas was the "Titanium" – project together with DJ Felipe. They started TITANIUM in early 2003 and got massive international support by top artists like Marco Bailey, Stanny Franssen, Johan Bacto, Hardcell, Asem Shama, Redhead, Patrik Skoog, Chymera, Wehbba and many more!!! "Felipe & Nicolas Bacher" also released on all oft he important international labels like CL Records, Rotation, Bush, Primevil, Monoid, YO! and mb electronics. The second label "SUPREME ENTERTAINMENT" was soon born, which was dedicated to warmer and groovier techno and house rhythms. Featuring artists like Samuel L. Session, Danilo Vigorito and Gaetano Parisio, ex-Amnesia-Ibiza-Resident Paco Osuna from Spain and many more big names found a home on this platform. Besides the regular dj-dates Nicolas was also performing the TITANIUM productions live all over 2004 and 2005 with special performances, animations and amazing light program for major events.
One of his biggest releases was "Mindscope" which came out on Deep Dish's Yoshitoshi Records. Mindscope was one oft he most played records on 2008's Miami WMC and was licensed to Global Underground fort he Space Miami Compilation. Nicolas started his digital only record label "NB RECORDS" which is available worldwide through iTunes, Beatport and all major download portals. The plan for 2012 includes major focus on his label NB Records, with many promising artists in the queue, as well as releasing two EPs on two very reputated labels.